What Sets Steele's Peel-N-Stick Apart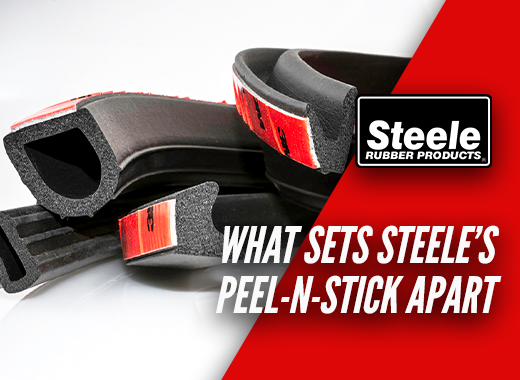 Weatherstripping is an essential part of sealing your car/truck/hotrod/RV/trailer/boat. It's not a fun or sexy product but here at Steele we do our best to continually improve our products to make them better and easier to use.
When it comes to ease of use in weatherstripping it doesn't get much better than our Peel-N-Stick items. No mess or hassle of using adhesive, just some good surface prep and precision placement is all you need for a successful installation.
Many people are skeptical of Peel-N-Stick products in general because of the widely available inferior products offered at discount stores. I'm sure you've seen some very light weight grey foam rubber seals that are so flimsy and easily compressed you wonder how they even work- spoiler alert, they don't. Or where the adhesive backing is actually just double-sided tape that ends up separating from the foam rubber itself. Or hear the nightmare stories where the stuff sticks a little bit but ends up a twisted bunched mess after some use. Those are all frustrating things for sure.
Peel-N-Stick at Steele means something completely different for a couple of reasons:
Our Peel-N-Stick extrusions (the rubber part) are the same as what we use to make our direct fit/OE style parts. All of our extrusions are made from 100% EPDM rubber for durability and longevity. Our dense rubber is very sturdy but not rock hard like some. Our sponge rubber is far from flimsy and is also hydrophobic closed cell meaning it won't hold water (that's super handy for when you're trying to keep water out of what you're sealing). Not all foam rubber is created equal.
2. The adhesive we use is not just double-sided tape. It's 3M Heat Activated Acrylic Foam tape. What does that mean exactly? When heat activated, the adhesive on this tape forms an immediate, consistent, and durable bond to most EPDM rubber formulations. This stuff is not gonna separate from the gasket- it becomes one with the gasket, forever and ever, amen.
It uses 2 different industrial strength adhesives specifically designed for attaching weatherstripping or gaskets/seals to many metals, coated metal, glass and select paint and plastics (essentially all smooth, non-oily surfaces). The tape itself has a conformable acrylic core that has excellent characteristics to hold up against moisture and stress. In other words, this stuff was made to hold up under any conditions and can handle whatever you throw at it.
The HATS (Heat Activated Taping System) Process
Applying HATS tape correctly is a science and we've got experienced people who excel at it.
We start with an extrusion that needs to "be taped" as we call it. Our taping machine feeds the adhesive tape through on the top level and the extrusion on the bottom level. Both the extrusion and tape use different fixtures to make sure they're centered and lined up with each other. If they're not matched up correctly the part won't pass our quality check and must be scrapped. We use five different sizes of adhesive tape to accommodate the range of widths of our extrusions.
Where the machine brings the extrusion and tape together there's a tube that blows hot air (520 degrees F, to be exact) on them both so they can form their instant, heat activated bond. The machine applies enough pressure to push them together while they pass through to make that 3M magic happen and then they become one (you may now kiss the bride). The part is now 100% ready for you to peel and stick to your heart's desire.
The Key to Lasting Adhesion from Steele Peel-N-Stick Products
Surface preparation is EVERYTHING when it comes to performance for Peel-N-Stick parts, or for anything that uses adhesive. Yes, using Peel-N-Stick is a time saver when it comes to not having to go through the process of spreading adhesive (and any clean up after) but you can't skimp on surface prep. You just can't. A clean surface free of debris, dirt, oils, solvents, or anything else is what you're looking for. For detailed instructions on how to prep your surface for Peel-N-Stick check out our article on the subject here.
That's the scoop on our Peel-N-Stick here at Steele. Still skeptical? We offer free samples so you can try a small piece to fit up before you buy it. And while we're confident you'll be more than happy with your purchase, you're never stuck with anything you buy from Steele. Every part you buy from us is covered by our 100% satisfaction guarantee.
---
Steele not only has all the products you need but all the knowledge you need to get the job done right, too. If you have questions about Rubber Parts or Weatherstripping on your Classic Car, Truck, Hot Rod or even your boat, trailer or RV, feel free to reach out to us! You can call us at 800-650-4482, contact us through our website or comment on this post and we'll get you answers as quickly as possible. Check out our YouTube channel for our full library of how-to/installation videos.
Steele Rubber Products, located in Denver, NC, is a manufacturer and seller of high-quality rubber parts and weatherstripping products for classic and vintage automobiles, hot rods, RVs and Boats. Steele offers more than 12,000 parts for cars and trucks as well as a large line of universal weatherstripping and rubber parts to be used on any project. Established in 1958, Steele is a trusted name in the automotive restoration industry.