Why Beltline Weatherstripping is Essential to your Restoration Project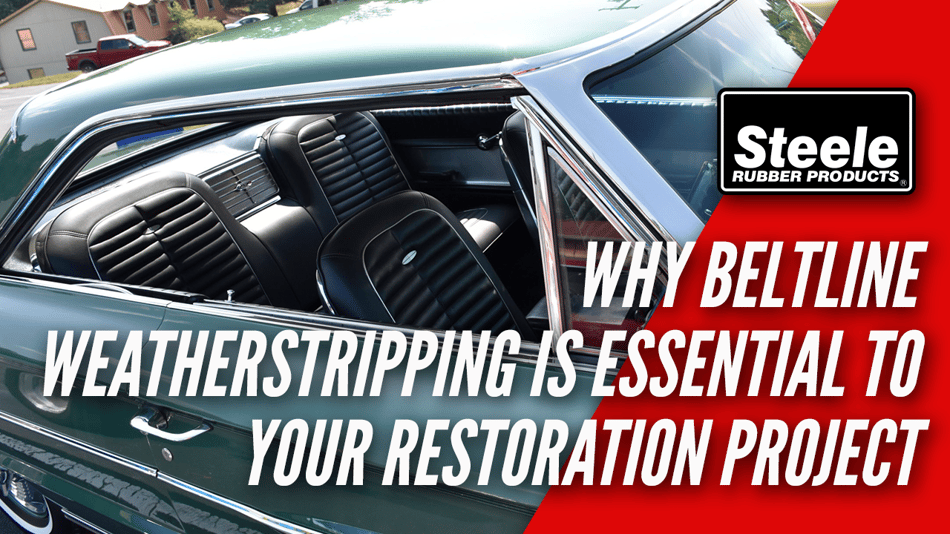 Beltline weatherstripping has many different names- window sweeps, window fuzzies, windowfelts, cat whiskers, window moldings- no matter what you call it, the function is still the same: they are long strips of either fuzzy material or rubber mounted onto the top of the door (where the window rolls down into the door) on each side of the glass to sweep the window and keep dirt, debris and water out of your door. These are very important not only for preventing rust on the body of your vehicle, but also to prevent window rattles too.
There's an inner beltline that seals between the door window and the inner door panel and there's an outer beltline that, you guessed it, seals between the outer door panel and the window. These mount to the inside of the door panels and you do need to take the inner door panel off in order to access and replace them. If you have the door taken apart for any other reason I highly suggest checking on these (and everything else in there for that matter) to see if they need replacing. If they are cracked, brittle, dry, partly missing or just not filling in that gap anymore, it's time for new ones.
When I say that these parts are specific to each individual vehicle (year/make/model/style), I could not be more serious. They are bent/shaped/formed/cut to match the top of that door exactly and there are several different options- no bead, chrome bead, black bead, fuzzy lining, rubber scraper, etc. We offer hundreds of sets specific to cars and continue to add more each month. To search for beltline weatherstripping specifically for your vehicle click here.
But for those who are building something custom or just have one of those vehicles you cant find parts for, we have universal beltline weatherstripping. You can get it in a few different lengths- 2′, 3′, or even 6′ long and with all the same options so there's no need to worry, we've got you covered!
The intimidating part of this project is definitely gonna be the bending or shaping of the beltline weatherstrip and believe me, we know this. We have a saying around here- "We treat your project like it's our project because we are enthusiasts too" and in that spirit, we created the videos below about how to bend and attach beltline weatherstripping, just for you!
How to Bend Beltline Weatherstripping
How to Attach Beltline Weatherstripping with Glue
Steele not only has all the products you need but all the knowledge you need to get the job done right, too. If you have questions about Rubber Parts or Weatherstripping on your Classic Car, Truck or Hot Rod feel free to reach out to us! You can call us at 800-447-0849, contact us through our website or comment on this post and we'll get you answers as quickly as possible. Check out our YouTube channel for our full library of how-to/installation videos.
Steele Rubber Products, located in Denver, NC, is a manufacturer and seller of high quality rubber parts and weatherstripping products for classic and vintage automobiles, hot rods, RVs and Boats. Steele offers more than 12,000 parts for American made cars and trucks as well as a large line of universal weatherstripping and rubber parts to be used on any project. Established in 1958, Steele is a trusted name in the automotive restoration industry.