Weatherstripping Tools of the Trade: Adhesives and Chemicals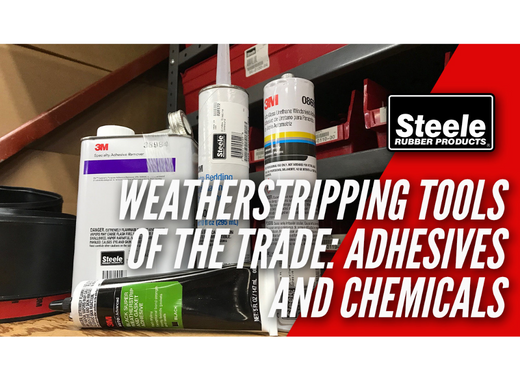 Here at Steele Rubber Products we do our best to cater to the "do-it-yourself" crowd. Our founder started this company making parts for himself and his friends out of his own garage so those who do the work themselves at home are near and dear to our hearts.
Because of that, we want to offer everything you may need while tackling a project. We even offer a full line of adhesives and chemicals to use when installing our weatherstripping and rubber parts. These are specific products that we recommend because they are proven to work and will give you the good end result you're looking for from all the hard work you put in.
We recommend these products because they work- not because they paid us for a spot on our shelves (boy it would be nice if they did though 😉). I can assure you, if you walked through tomorrow you'd see these very same products on our workbenches and in our toolboxes at the shop.
To take things a step further, I'll break down each item we offer with more info from the experts so you're armed with everything you need to use these products with confidence on your next project. These are all available on our website but most can also be found at an auto parts house near you.
Super Weatherstrip Adhesive- Black
Steele part number 96-8008-96
3M part number 08008
This awesome adhesive is designed specifically to bond seals and gaskets to metal and forms a flexible, waterproof bond that resists vibration. 3M developed it to help ensure a waterproof, airtight seal inside your vehicle around the doors, trunk, T-tops, sunroofs and windows.
It also:
Permanently bonds to a variety of surface types including rubber, fabrics, gaskets, seals and metal.
Is ready to use right out of the tube.
Resists oils, solvents, detergents, and temperature changes.
Is fully cured in 24 hours.
Be sure to wait the full 24 hours before shutting doors or trunks with fresh weatherstrip adhesive on them. That pressure could cause them to shift out of place.
This is our go-to adhesive for EVERYTHING when it comes to installing weatherstripping.
Things you should know:
Proper surface prep is a MUST for optimal adhesion using this or any adhesive.
You need to apply this adhesive properly if you want it work as promised. There is a right and wrong way to do this. Check out this video for specific step-by-step instructions.
A little goes a long way. We offer a big 5 oz. tube (will probably get you through a whole vehicle) or a small 2 oz. tube (for a single part or two).
If you're doing a points restoration, check to see if you should be using black adhesive or yellow. We also offer the

yellow version

for this purpose.
We use a large popsicle stick to spread it. We're also known for putting some on a paper plate and using a popsicle stick to take it from there instead of applying it straight from the tube (not very sophisticated but hey, it's functional).
You can find 3M Super Weatherstrip Adhesive here on our website.
Weatherstripping adhesive should never be used when installing gaskets for any type of window glass. This adhesive is for trunks, doors, T-tops, convertible parts and a few other misc applications only.
---
Steele part number 96-0495-96
Loctite part number 495
They may look a lot alike, but this isn't your average super glue. This is a general-purpose adhesive designed to bond rubber, metal and plastic parts. It doesn't just stick them together it BONDS them.
We recommend this for joining the ends together when creating a custom gasket. Check out our article on How to Make a Custom Gasket for Your Build for more details.
Things you should know:
This is an instant adhesive- you only get one chance to line things up right!
Works for both sponge and dense rubber.
A little goes a long way. We normally apply this with the end of a paperclip. Use a thin coat over the entire surface you're trying to bond.
You may see smoke when you apply it- that's a chemical reaction actually bonding the two pieces together. That's the magic happening!
You can find Loctite Super Bonder 495 here on our website.
---
3M Auto Bedding and Glazing Compound
Steele part number 96-8509-96
3M part number 08509
Auto bedding and glazing compound is a sealer designed specifically for creating a watertight seal between a rubber gasket and an auto body. It's a rubber-based formula that never hardens so it remains flexible, making it the perfect solution for sealing windows on a vehicle that's always shifting and vibrating.
We recommend this for use when installing windshields, back glass, quarter glass or any window in a car, truck or hot rod that uses a gasket. Check out our article on The Secret to a Leak Free Windshield on Your Classic for more details.
Things you should know:
Has non- sagging properties making it great for vertical and overhead applications.
It's a one-part sealer so there's no mixing required.
Comes in a caulking tube for easy application.
Won't harden or crack EVER.
Auto Glazing and Bedding Compound is meant to be used between a rubber gasket and the vehicle's sheet metal when installing glass (typically mid 60's vehicles and earlier; or any window that uses a rubber gasket). It is not interchangeable with butyl tape or urethane adhesive. These are two completely different products with different purposes.
You can find 3M Auto Glazing and Bedding Compound here on our website.
---
Steele part number 96-8693-96
3M part number 08693
3M Urethane Adhesive is a medium viscosity, one-part moisture-curing urethane adhesive. In plain old English that means this stuff is relatively flexible when fully cured and an excellent choice for bonding dissimilar materials. In our case, like glass and metal.
We recommend it in place of Butyl tape for use when installing a windshield or rear window. It can also be used for mounting things like backlights, side lights, and even beltline weatherstripping.
Things you should know:
It's fast curing for rapid results.
Has non-sagging properties.
High bond strength designed for windshield bonding and stationary glass attachment.
Adhesive properties meet many applications demands and strength requirements.
Urethane adhesive is meant to be used directly between glass and metal on vehicles when installing glass (mid 60's vehicles and after or any flush mount window/windshield). For more details read our article Where Has all the Butyl Tape Gone?
You can find 3M Urethane Adhesive here on our website.
---
3M General Purpose Liquid Adhesive Cleaner
Steele part number 96-8984-96
3M part number: 08984
3M General purpose liquid adhesive cleaner does just that- it removes adhesive residue with ease. Sometimes that old weatherstripping adhesive is a you-know-what to get off and we need to clean EVERYTHING off of our gluing surface for maximum adhesion.
We recommend using this for surface prep before installing any weatherstripping that requires adhesive or even if it's peel-n-stick. It's also great as a general-purpose adhesive remover around the house, garage, work- wherever!
Things you should know:
Completely safe for use on fully cured, painted surfaces (like your favorite classic car/truck/hot rod).
Removes adhesives, waxes, road tars, grease, oil and similar materials.
Can be used on vinyl or fabrics.
Also available in a convenient aerosol can #96-8987-96.
You can find 3M General Purpose Liquid Adhesive Cleaner here on our website.
---
3M Plastic and Emblem Adhesive
This is an excellent clear adhesive for plastic repair and emblem application.
We recommend it for use with plastic or metal emblems, interior rigid plastic, taillight lenses, vinyl side molding or upholstery.
You can find 3M Plastic and Emblem Adhesive here on our website.
---
This product produces a textured finish which resists chipping, abrasion, exterior rusting and weathering.
We recommend it for protecting automotive undercarriages, wheel wells, fenders, quarter panels and more. We also love it for its sound deadening properties in those same locations.
Things you should know:
Aerosol container allows for easy spray-on application.
Provides one-coat build-up with no dripping, running or sagging.
Is an asphalt based product.
A great way to help soundproof your vehicles cabin.
You can find 3M Rubberized Undercoating here on our website.
---
Steele not only has all the products you need but all the knowledge you need to get the job done right, too. If you have questions about Rubber Parts or Weatherstripping on your Classic Car, Truck, Hot Rod or even your boat, trailer or RV, feel free to reach out to us! You can call us at 800-650-4482, contact us through our website or comment on this post and we'll get you answers as quickly as possible. Check out our YouTube channel for our full library of how-to/installation videos.
Steele Rubber Products, located in Denver, NC, is a manufacturer and seller of high-quality rubber parts and weatherstripping products for classic and vintage automobiles, hot rods, RVs and Boats. Steele offers more than 12,000 parts for cars and trucks as well as a large line of universal weatherstripping and rubber parts to be used on any project. Established in 1958, Steele is a trusted name in the automotive restoration industry.