The Great Race Comes to Mooresville, NC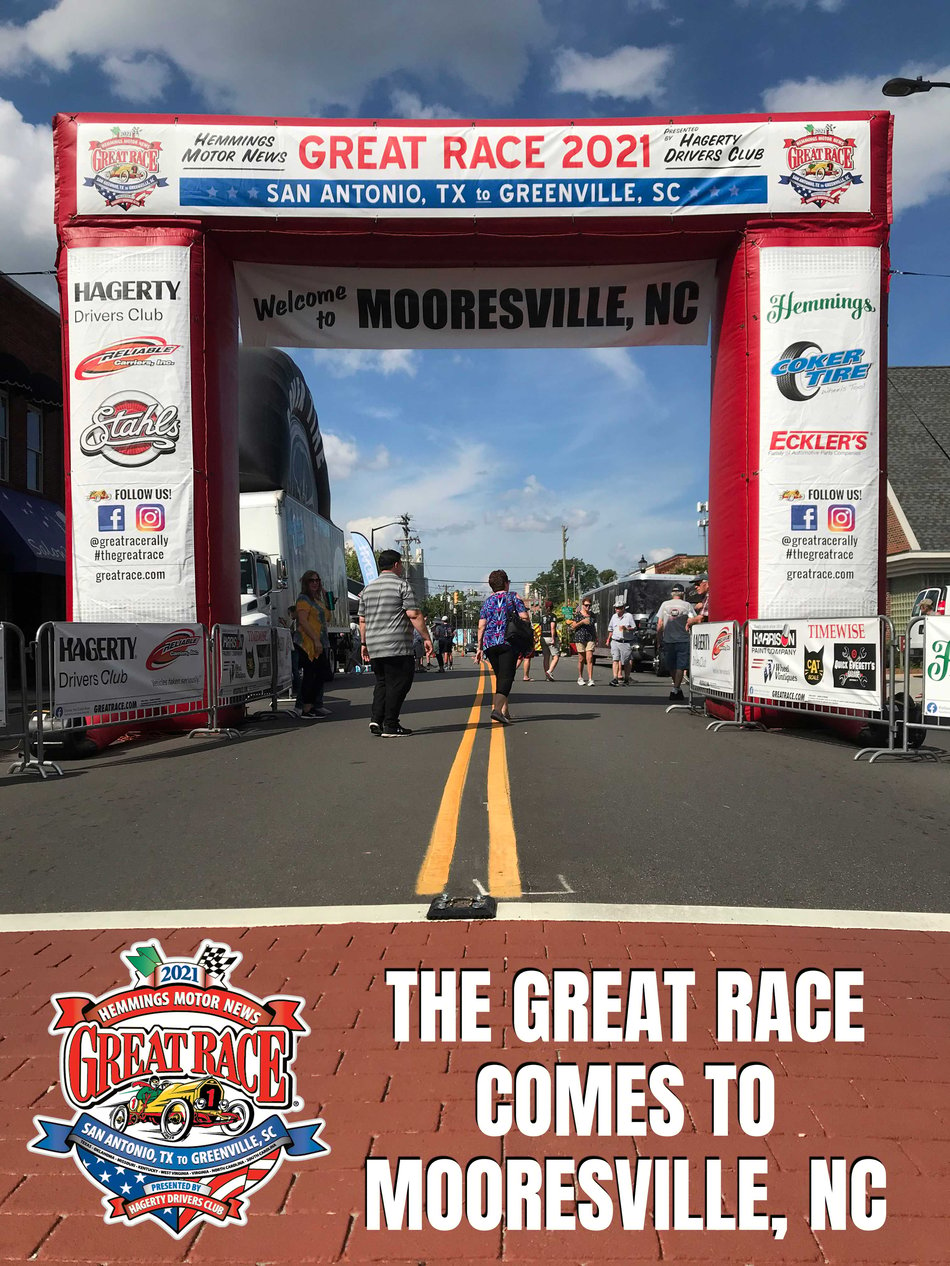 Almost immediately after Hemmings published the 2021 route, we realized that this year the Great Race had a stop in Mooresville, NC- a 20-minute drive from our headquarters! For the car nerds (like me) at work this meant on Saturday, June 26 we needed to keep our calendars clear so we could see what all the Great Race hype is about (find more information about the Great Race here).
Not gonna lie- I glanced at the participants list and saw some cars that I'd never heard of. On the day of the event, I came with a full cell phone battery prepared to take some pictures. When I arrived on Main Street in Mooresville at 5pm everything was ready for the cars to start arriving as scheduled at 5:30pm. There was a grand arch welcoming them to Mooresville, Hemmings and Coker Tire had many folks there working to make sure everything went smoothly and Hagerty was there with cool drinks for attendees and goody bags for the drivers. Hundreds of excited car enthusiasts lined both sides of the street waiting with anticipation.
Not long after I got there, I grabbed a drink and sat on the road just outside of the arch to get a front row seat to see each vehicle as it arrived. There were so many cool cars! And to know that each one of them was an actual driver that had traveled the whole route from San Antonio, Texas was remarkable. I didn't get to capture them all but I tried (a girl has to stretch her legs at some point). The emcee, Jason White, kept us all entertained and informed for the entire event, even when the inflatable arch completely collapsed at one point.
After 2 hours all 100+ cars had crossed through the arch and parked on the street so that everyone could get a closer look and people were swarming. The drivers were so friendly and happy to answer questions or just chat. It was 90 degrees all day, but no one was rushing home. Such a wide variety of vehicles, each with its own story- there was so much to see and appreciate. Easily the coolest car show I had been to in a long time.
Some interesting things to note:
There was an ACTUAL 1966 Ford Mustang GT350 Hertz Rent a Racer Car in the race. If you don't know the story behind the Rent a Racer program- it's a great one. Here is an article from Hemmings about it.
There was a 1918 American LaFrance Speedster in the race that's chain driven- yes, just like your bicycle.
GPS, radios, phones, and maps are not allowed in the Great Race. Competitors follow the route using the detailed notes provided to them each morning and use stop watches or analog clocks (I got pictures of many clocks on dashes) to chart their progress.
There was even a big rig in the race! This 1974 Peterbuilt 359 was a real crowd pleaser and had many custom design features.
After the evening's festivities were over at 8pm, the drivers spent the night in Mooresville so they could head out in the morning for the final stretch of the race. The last stop was the finish line at lunch time in Greeneville, SC. Such a cool experience to be a part of- thank you, Hemmings, for the tradition of the Great Race!
Steele Rubber Products, located in Denver, NC, is a manufacturer and seller of high quality rubber parts and weatherstripping products for classic and vintage automobiles, hot rods, RVs and Boats. Steele offers more than 12,000 parts for cars and trucks as well as a large line of universal weatherstripping and rubber parts to be used on any project. Established in 1958, Steele is a trusted name in the automotive restoration industry.