Steele Universal- A Part for Every Project: Ford Tractor Hood to Cowl Seal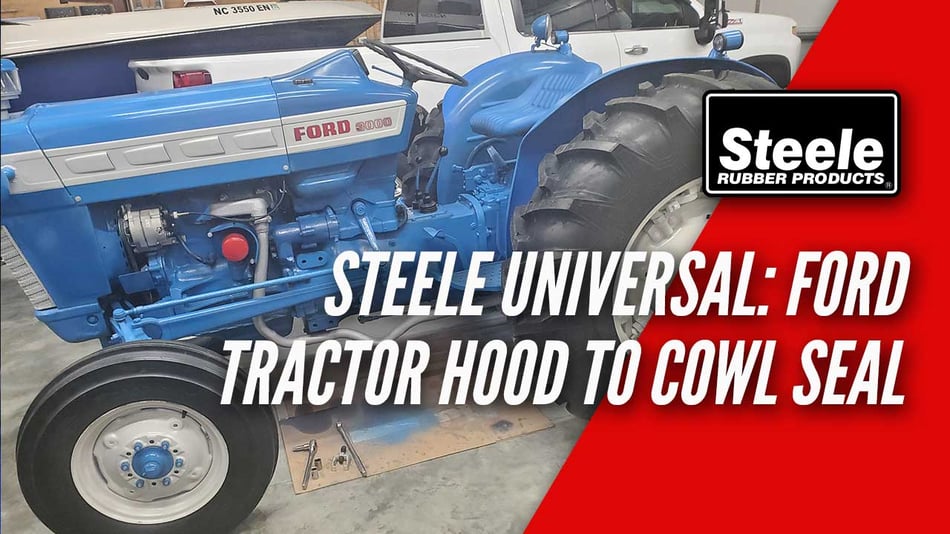 For many years here at Steele we have been helping people find weatherstripping for their projects that don't have an OEM replacement with our Universal Products line.
All you need to do is check out the profile of the weatherstrip you need replaced and compare it to the profiles online or in our Universal Parts catalog to find the right part. If you don't have your original available, determine your gap size and shape using this method in our  previous blog post and get a free sample for a test fit. Once you have confirmed the right profile for you, go ahead and order as much or as little as you need!
Every now and again we find solutions using our Universal products and through this blog series we will share those findings in hopes that if you run across the same need, you'll be able to find a part from Steele to help!
One of our customers sent in a review saying they used this part- 70-4062-99 Street Rod Extrusion with Flocking on their 1965 Ford 3000 Diesel Tractor to seal the hood to cowl area. Typically, this weatherstrip is used as a replacement for a beltline on a hot rod or on a vehicle that never had one to begin with. But because Steele's products are high quality and very durable there is no doubt it could be used for an application like this. Plus, it is Peel-N-Stick making it a super easy installation job- a big bonus.
Naturally, because we are always curious about these things and want to spread the word, we requested some pictures, and our customer was more than happy to help. It not only functions well but looks great too!
Do you have a project you can't find an OEM replacement for? Check out our Universal line here or request a printed catalog today!
Have you used a Steele Universal seal on your project? Let us know and yours could be the next one featured on our blog.
Steele not only has all the products you need but all the knowledge you need to get the job done right, too. If you have questions about Rubber Parts or Weatherstripping on your Classic Car, Truck, Hot Rod or even your boat, trailer or RV, feel free to reach out to us! You can call us at 800-650-4482, contact us through our  website  or comment on this post and we will get you answers as quickly as possible. Check out our  YouTube  channel for our full library of how-to/installation videos.
Steele Rubber Products, located in Denver, NC, is a manufacturer and seller of high-quality rubber parts and weatherstripping products for classic and vintage automobiles, hot rods, RVs and Boats. Steele offers more than 12,000 parts for cars and trucks as well as a large line of universal weatherstripping and rubber parts to be used on any project. Established in 1958, Steele is a trusted name in the automotive restoration industry.