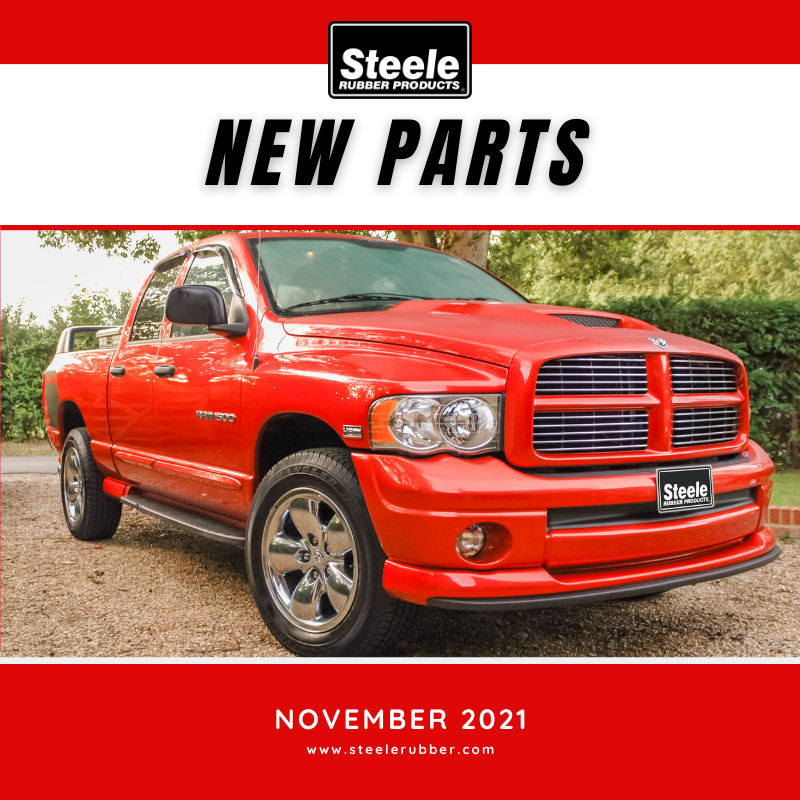 Every part purchased from Steele comes with our 100% Satisfaction Guarantee so you can buy with confidence.
For more than 60 years we've been committed to delivering quality products and our passion is helping you restore the car of your dreams. Every month we do our best to add new parts so we can help more people get their ride #SealedWithSteele!
Dodge
We now offer Beltline Weatherstripping and Run Channel for 2002-2008 Dodge Ram
Beltline Weatherstripping
Beltline weatherstripping from Steele Rubber Products will not only seal and protect the doors of your Dodge truck from water and debris but they'll also help to ensure a quiet ride by preventing window rattles. These essential parts are made from top quality materials, cut and shaped to fit like originals and covered by our 100% Satisfaction Guarantee.
Flexible Run Channel:
Run channel from Steele Rubber Products will help seal your windows to keep debris and weather out and reduce wind noise while driving. These rubber run channels are made from top quality materials, push in for easy installation, fit like OEM and are covered by our 100% Satisfaction Guarantee.
---
Now offering Sound Deadener Underlayment for select models!
When doing a restoration you want to be sure to plan ahead for things like road noise and heat by using the proper underlayment to keep them at bay. Cut and shaped to fit your specific vehicle and covered by our 100% Satisfaction Guarantee, we're excited to bring you another way to get your ride #SealedWithSteele!
70-4604-88
Fits: 1968-1969 Chevrolet Camaro & Pontiac Firebird
This complete set includes insulation pieces for the floor, doors, quarter, and roof panels. Convertible models will have extra material that can be trimmed and used elsewhere.
---
New Kits
Save money when you purchase as a KIT from Steele Rubber Products!
Other New Parts
---
For price and availability for these new parts, or to see if we have the parts you need for your classic car, truck or hot rod, visit our website at www.steelerubber.com/automotive!
Is there a rubber or weatherstripping part you're looking for but can't find anywhere? Let us know! Customer requests are how new parts are born here at Steele.
Steele Rubber Products, located in Denver, NC, is a manufacturer and seller of high-quality rubber parts and weatherstripping products for classic and vintage automobiles, hot rods, RVs and Boats. Steele offers more than 12,000 parts for cars and trucks as well as a large line of universal weatherstripping and rubber parts to be used on any project. Established in 1958, Steele is a trusted name in the automotive restoration industry.