New Glass and Gaskets for a 1963 Chevy Nova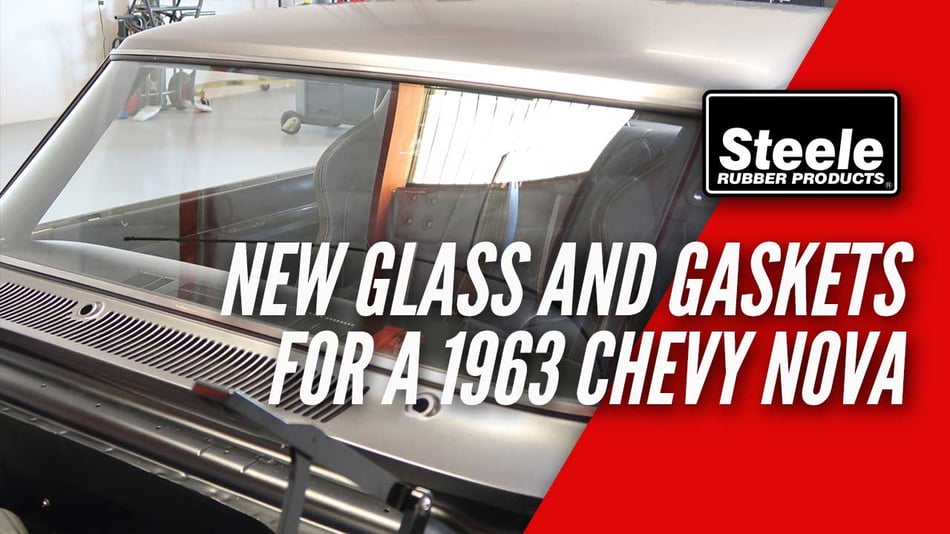 I think it's pretty natural for a company that makes aftermarket auto parts to love a good restoration project. Seeing an old car look new again or take on a whole new look is exciting and satisfying for us to know that we had a part in it.
With that being said, we have an extra special place in our hearts for DIY projects. Regular people working on their favorite ride in their home garage (or a friends) with their friends and family. We love walking them through that process so they not only beam with pride at their great looking, leak free ride but it's extra meaningful to them because they did the work themselves.
When the folks over at All Chevy Performance magazine approached us about participating in this 1963 Chevy Nova project we were all too excited to see how it turned out! David and Al Backes were called on to do the glass work as they have done these types of projects before. Using their experience and knowledge, they walk you through each step of replacing the glass and gaskets on the front and rear windshields and the vent window, too. The process is broken down into digestible pieces making it possible for you to follow along with your own project at home.
You can check out the full article here! (from the January, 2022 issue of All Chevy Performance Magazine):
Have you replaced the glass or gaskets on your classic and done the work yourself? Comment below! Let us know about your experience.
Steele not only has all the products you need but all the knowledge you need to get the job done right, too. If you have questions about Rubber Parts or Weatherstripping on your Classic Car, Truck, Hot Rod or even your boat, trailer or RV, feel free to reach out to us! You can call us at 800-650-4482, contact us through our website or comment on this post and we'll get you answers as quickly as possible. Check out our YouTube channel for our full library of how-to/installation videos.
Steele Rubber Products, located in Denver, NC, is a manufacturer and seller of high-quality rubber parts and weatherstripping products for classic and vintage automobiles, hot rods, RVs and Boats. Steele offers more than 12,000 parts for cars and trucks as well as a large line of universal weatherstripping and rubber parts to be used on any project. Established in 1958, Steele is a trusted name in the automotive restoration industry.