How Steele Can Help Find the Right Part When it Doesn't Exist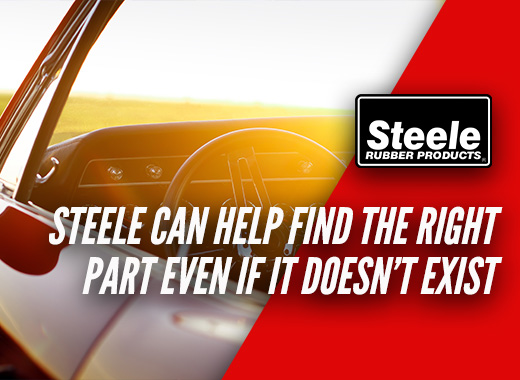 Let's say you're trying to seal an old 1930's car. Many of these vehicles came with little or no weatherstripping. Or maybe you're working on something obscure that NOBODY carries replacement parts for. Or something more general like an RV, boat, or trailer- or anything that needs weatherstripping- and you can't find a direct part replacement for it- what do you do next?
It sounds like you're in need of help from Steele Rubber Products!
Steele Rubber has a large selection of seals presented in our Universal product line. While we certainly carry a variety of universal style seals ("D" shape seal and solid rectangular shapes), we also offer many specialty designs and introduce new products all the time.
We offer our products for sale by the foot so you can conveniently purchase as little or as much as you need. Additionally, everything purchased from Steele, no matter which product line, is backed by our 100% Satisfaction Guarantee.
It can be intimidating to even know where to start to find exactly what will work for your project but, no worries, we've got your back! This is how we can help you find the right part for your project:
If you want to tackle it yourself:
Request a FREE catalog. Whether you're working on a car, RV, or boat, or a custom project, we have a catalog tailored to your needs. Our custom On-Demand Catalog is specific to the year, make, model, and style of your vehicle. This catalog will only include direct-fit parts for your vehicle. The Universal Catalog shows almost all our seal profiles and is an awesome resource for finding a solution. This is a go-to tool for anyone who has a street rod or builds custom cars. We also offer an RV Catalog with everything from window weatherstripping to slide out seals for class A motorhomes, camper vans, travel trailers and more. The same goes for our Marine Catalog, rub rail inserts, hatch or compartments seals, etc.
Request a FREE sample pack. Our sample packs are one of the coolest things we have to offer to help our customers. Let's say you need a roof rail seal for a custom build- we have a sample pack for that. Or an edge seal for a metal working project- we have a sample pack for that. Each pack has a different theme (for example: RV slide out seals) and small pieces of some of our most popular seals in that category. The back of the card gives details about each piece inside and even has a handy ruler on the side of the card to help you figure out exactly what you need. Once you determine the one that works for you, the part number is right there so you know exactly what to order. In the event you don't find a good match in the pack, you at least have a starting point and can compare to the rest of the seals we offer in that category. We also offer à la carte samples of basically anything we sell by the foot, so if you find a piece you're interested in, we can make that happen.
Use the silly putty test. This one is good for when you're trying to seal something up but don't have the old seal there to see what shape or size it was. And it's easy! All you have to do is run out and grab some silly putty, wrap it in plastic wrap (to keep it from making a mess), place it in the area where the gap is, and shut the door (or trunk, or whatever you're sealing). Then, when you open it back up and carefully remove the silly putty, it's now in the shape of the space you need to fill with weatherstripping. Generally, you'll want your seal to be a bit bigger than that space. If your putty mold is 3/8" tall, maybe go with a seal that measures 9/16" or 1/2″ tall. Measure and record the dimensions, then you can compare to our catalogs or call us to get a free sample to test fit.
If you want us to do the work for you:
A picture is worth 1,000 words! If you're replacing a bad seal and still have the old one, take a picture of it! What we need to see is the profile (raw edge/side view) so we can determine the shape, size, type of rubber (dense or sponge) and any other kinds of ribs, metal reinforcement pieces, etc., that make up that seal. We recommend you NEVER throw out your originals until you have the seal replaced and you know for a fact that it works. If you don't have the old seal, you can always send us a picture of the area you're trying to seal up to give us a good starting point for what to do next. This can be difficult with pictures, but it will get the conversation started.
Use snail mail. Not good with cameras and such? That's no problem. You can always contact us for instructions on how to send us a small piece of the seal you need replaced and then we can make our recommendations. Just be sure to give us a call first so that we can give you instructions.
With over 60 years' experience working with customers and using these methods, we're sure we can help you find a sealing solution for your next project.
Steele not only has all the products you need but all the knowledge you need to get the job done right, too. If you have questions about Rubber Parts or Weatherstripping on your Classic Car, Truck, Hot Rod or even your boat, trailer or RV, feel free to reach out to us! You can call us at 800-650-4482, contact us through our website or comment on this post and we'll get you answers as quickly as possible. Check out our YouTube channel for our full library of how-to/installation videos.
Steele Rubber Products, located in Denver, NC, is a manufacturer and seller of high-quality rubber parts and weatherstripping products for classic and vintage automobiles, hot rods, RVs and Boats. Steele offers more than 12,000 parts for cars and trucks as well as a large line of universal weatherstripping and rubber parts to be used on any project. Established in 1958, Steele is a trusted name in the automotive restoration industry.