6 Things to Consider When Buying a First Gen Camaro (1967-69)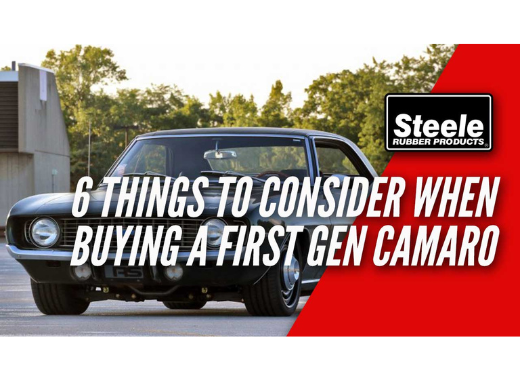 It's the car you've always wanted and now you've decided it's time to make one yours! What can be a very exciting purchase will quickly turn into an expensive, time-consuming heartache if you're not properly prepared. To get you pointed in the right direction I put together this list of things you should be checking into when making this purchase.
To assist me in writing this article I called on Stan Younts of Stans Restorations. He's been building first-generation Camaros for more than 30 years and is an expert in his field.
Here are six important things to consider when buying a first Gen Camaro:
#1– The more original, the better
Stan says "The more original or untouched a car is, the better to start with. You don't have to redo a lot of stuff someone else has done. So many people do what they consider restoration or repairs and it's not good." It's cheaper to find something original and intact than something that's already been worked on- especially if you pay someone to repair that work.
#2- In-person inspection
A picture can speak a thousand words……. But can also be deceiving (if you've ever shopped for anything online, you know what I'm talking about!). It's so easy to miss things in an online listing that you'd never be able to overlook in person.
One of those things that's easily overlooked is rust. Stan confirmed that the rumors are true- you really do only see about 10% of the total rust when inspecting a car. Sometimes you just can't see it, other times people try and cover it up.
The specific areas most prone to rust on the first Gen Camaro are the same as most classic vehicles- the quarters and floors, around the windows, the trunk floor, and the fenders. Sheet metal work is one of the more time-consuming parts of restoration and the cost of that time can add up quickly.
Another one is paint. Imperfections in paint aren't always captured by photo but you can't help but see them in person. Especially if you're looking at a higher-priced vehicle, paint is important and costly to have redone the right way.
The list goes on and on- it's always better to just see it, hear it, and get the full experience when making a big purchase like this. Or, for a few hundred bucks, you could even hire someone to do a pre-purchase classic car inspection for you (if you do a quick google search, you'll find many different companies that offer these services).
#3- Check paperwork/Numbers
To be sure your car (whatever make or model it is) is what you're paying for, you should become a detective and use whatever evidence you can come up with to determine its original state and its value. VIN, trim or cowl tag codes, engine codes, Protect-o-plate (not attached to the car), etc., are all great pieces of information to verify. An excellent resource to help you decode these numbers and information is the website camaros.org. I was surprised by just how much is on there. It is packed full of information specifically about this generation of Camaro and is free to use.
Fun fact- did you know that in Canada their vehicle documentation is far better than in the US? If you're looking at a Canadian-owned Camaro, it may be easier to verify you are getting what you pay for (thank you, Stan, for that interesting bit of information).
The car you have your eye on may be missing some information or not offer any at all. In that case, you need to accept the information you do have and go from there. With any kind of unverified purchase like this, there's always a risk involved. You should only spend what you feel comfortable investing – given the level of risk.
You can even pay for a service to have your Camaro verified but in Stan's experience, that doesn't ensure its authenticity. It's expensive and he's seen it fail before with an owner having grossly overpaid for what he thought was an authentic 1969 Z28.
"This is why documented cars are bringing so much money now and selling well. With paperwork that lines up, there's no doubt." Said Stan.
#4- Know your features- Clones/Fraud
Along with any Camaro, there's always a possibility of clones and sometimes just outright fraud. It's important to know your features so you can spot when something's not right before buying it or even just spending time doing a lot of research. Stan says, "If you're buying a car that doesn't have a lot of documentation with it, you better know what you're looking at. It's a buyer beware situation."
"They produced about 19,000 Z28s in 1969. And there's probably 120,000 of them out there today." Said Stan, with a smirk, "Sure, some are clones but there are some that are just outright misleading or fraudulent to make a profit." To avoid overpaying for a fake, you should know your features well.
For example, Stan just helped someone who was looking at a 1969 Z28. He asked if it has an antenna and the guy said yes, it's on the right rear quarter. Stan then asked does it have a spoiler? The answer was yes but for an authentic 1969 Z28, that's not possible. If it had a spoiler the antenna is supposed to be on the right front fender. Knowing these details, knowing what you're looking at will save you a lot of the time.
#5- Know the values
Knowing the market value of what you're shopping for is the key to knowing what you're really getting. Watch auctions and online listings for long enough and you'll get a feel for where the market prices are currently and where they're going. If you find something underpriced be suspicious because there's most likely a reason. An under-market price may be a sign of a clever clone or something worse.
Stan says that people see his builds and want one but think the price is too high. So, they look and find what they think is a great deal and buy a $30-40k car. What's unfortunate is people semi-restore or disguise it. A car might look nice in this price range but then they bring it in to have something done to it. They start digging and they find all sorts of inferior repairs or rust then it turns into a full-blown restoration. By the time they get done paying to have it fixed then they end up having way too much money in the car. Stan adds, "That happens a bunch in this industry. Way more often than not. And gives a very bad name to the guys that have to charge them the money for redoing all of that work."
#6- Make a list and keep it with you
Buying a classic car can be a fun and emotionally charged experience. It can be easy to get caught up in the moment and make a bad decision based on the euphoric feelings the purchase brings. Keep yourself level-headed and on track with a list.
Make a list of all the things you need to check out on the car, all the questions you want to ask the seller, and all the features that are important to you. Write it down, type it up and print it out, do it on your tablet- just make sure it's in your hand to remind you that while it is fun, it's an investment too and you want to make a good one.
A quick reference to distinguishing characteristics of the first-generation Camaro models (unmodified):
1967
Has vent windows (it's very popular to remove these)
No side marker lamps
Round signal lamps inboard of the headlamps
Fuel filler on rear body panel between tail lamps
Single-lens tail lamp
---
1968
No gills on the rear quarter
Large rectangular side marker lamps, low on the body
Soft rectangle-shaped signal lamps, located inboard of the headlamps
Fuel filler on rear body panel between tail lamps
Two-part tail lamp lens
---
1969
Body lines on the front quarter
Gills on the rear quarter
Smaller side marker lamps higher up on the body
Round signal lamps located below the bumper
The fuel filler is below the bumper behind the license plate
Three-section tail lamp lens with backup lamp build into the center
---
Rally Sport (RS) Package
Front: Easy to identify on all three model years by the hidden headlamps. 1967 and '68 are very similar but there is a slight difference in the grille. The 1969 is the easier one to identify.
Rear: has a backup lamp below the bumper (all others are adjacent to the tail lamp)
If you've ever purchased or sold a first gen Camaro, what was your experience like? What advice would you add to the list? Comment and let us know what you think!
Steele Rubber Products, located in Denver, NC, is a manufacturer and seller of high-quality rubber parts and weatherstripping products for classic and vintage automobiles, hot rods, RVs and Boats. Steele offers more than 12,000 parts for cars and trucks as well as a large line of universal weatherstripping and rubber parts to be used on any project. Established in 1958, Steele is a trusted name in the automotive restoration industry.