5 Tips to Help With Mitering Corners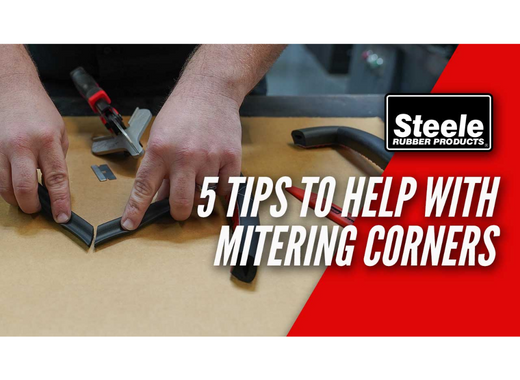 When you're doing any kind of weatherstripping project- especially a custom project- there's a good chance you'll encounter Mitering. Mitering is a fancy term for cutting 2 pieces of weatherstripping and joining them together at a 90-degree angle, like the border of a picture frame.
We're very familiar with this process and have gathered up our top 5 tips for mitering corners to help you with this detailed part of your project.
Tip #1: Use a 90-degree angle and silver pen to mark the weatherstrip where it needs to be cut. So long as you can cut on the lines, you're good to go!
Tip #2: Use a straight razor blade or mitering scissors to make the cut. The sharper the blade, the cleaner the cut.
Tip #3: If you don't have to cut all the way through the weatherstrip, then don't. Just bend the weatherstrip at the corner joint to match up the 2 sides and then apply adhesive to stick them together. This will allow you to have a continuous seal all around the outside edge.
Tip #4: Join the ends together with Loctite 495. It's made to join rubber to rubber and will give you a nice clean seam and sealed joint.
Tip #5: When making a glass gasket, use a template or piece of wood or metal to guide the rubber together when you glue your ends. This will ensure an even gap for your glass and help everything line up perfectly.
Bonus tip: It never hurts to get a little bit of extra material to do a trial run before you cut and glue the weatherstrip for your project.
If it's easier to follow along with a video, we've got you covered there too! Check out our YouTube Channel for all of our How To's where we make installing our products easy.
Steele not only has all the products you need but all the knowledge you need to get the job done right, too. If you have questions about Rubber Parts or Weatherstripping on your Classic Car, Truck, Hot Rod or even your boat, trailer or RV, feel free to reach out to us! You can call us at 800-650-4482, contact us through our website or comment on this post and we'll get you answers as quickly as possible. Check out our YouTube channel for our full library of how-to/installation videos.
Steele Rubber Products, located in Denver, NC, is a manufacturer and seller of high quality rubber parts and weatherstripping products for classic and vintage automobiles, hot rods, RVs and Boats. Steele offers more than 12,000 parts for cars and trucks as well as a large line of universal weatherstripping and rubber parts to be used on any project. Established in 1958, Steele is a trusted name in the automotive restoration industry.