2022 Steele Rubber Products Preservation Award- 1937 Ford Coupe 'Khrome Shoppe Special'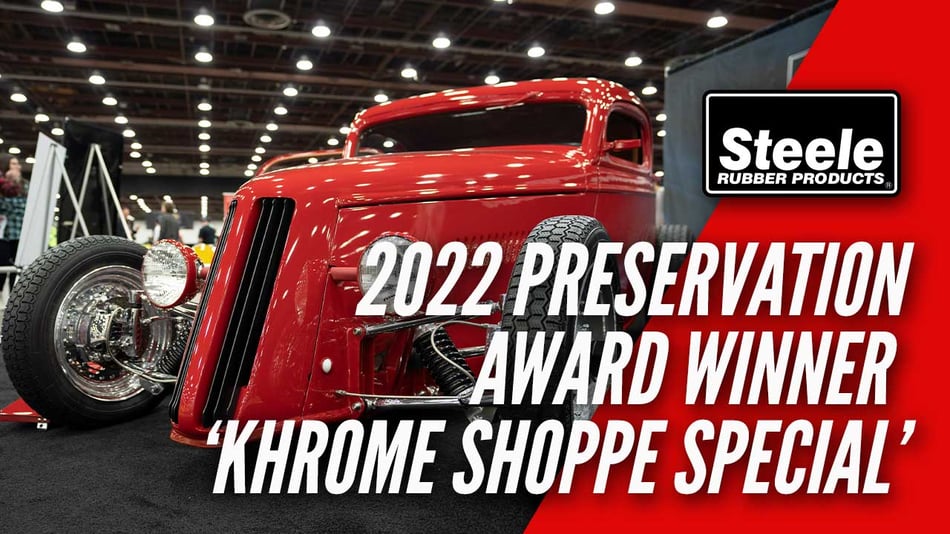 The Steele Rubber Products Preservation Award pays tribute to the machines that inspired all that came after them. Each year a vehicle with ties to Autorama, the regional car community or with historical significance in the car show world is chosen as the most outstanding car with significant importance in original condition, hence the name "Preservation Award". Each car chosen has it's own story. This is the story of this years winner, former Riddler award winner, 'Khrome Shoppe Special'.
In the early 1980's when Bob Reed first saw the 'Vern Luce coupe' in Hot Rod Magazine it got his attention. And for good reason. This was an award-winning build by the legendary Boyd Coddington- the first of many builds by Coddington to appear on the magazine's cover. Bob liked that 1933 Ford coupe so much that he decided he wanted to build something similar but incorporate some of his own touches.
He called and talked to builder Greg Fleury of Prior Lake, MN, about what he had in mind. They put their heads together with Tom Taylor about the design, made a plan and Greg got to work. The result was a track nose 33' Ford Coupe named 'Khrome Shoppe Special' like the world had never seen before.
In 1984 after winning the Riddler award at Detroit AutoRama, Khrome Shoppe Special was featured on the cover of Street Rodder Magazine. Tony Pisano, the current car owner, saw it and said, "I have to own that car." He didn't want to build another one, he didn't want one kind of like it. He wanted to own that specific car.
He went through the process of tracking down Bob whom he thought was the owner at the time. When they spoke, Bob let him know that the car had already been sold to someone else. So he tracked the car down to the owner in California. That owner had passed away but sold the car before his passing. At this point Tony had completely lost the trail to the car.
Meanwhile, the car had become one of about 60 vehicles in a private collection in Long Beach, California. And that's where it stayed for 25 years. To those who didn't know that, it seemed to have disappeared completely. Just 2 years ago when the owner of that collection passed away, his family started selling the cars. Tony, being an automotive enthusiast, always pays attention to what's for sale and happened to see it listed. He and the family made contact, he made the purchase and now, 36 years after it first caught his eye, the car is finally his.
When he took possession of the car it needed some cleaning. A lot of cleaning. After sitting in storage for 25 years he spent two to three weeks just getting it to shine. Once the years of dust and dirt had been removed, he noticed that it had been somewhat altered from its original look. The original wheels had been replaced with something different, the paint had been changed and it wasn't quite the car Tony had been hoping for. So, he made the decision to restore it. He couldn't find the original wheels so he had some made that look like them (he's still on the lookout for the originals though). He also had the new paint buffed off down to the original paint on the car. He did replace the upholstery and carpet but stayed within the theme of the original work. I didn't see it in it's last version, but it it's current, more original form, it's simply stunning.
I asked Tony what it was about this car that made him want it so much. He said he loved the sleekness of the car and the nose. He had never seen it in person till he took delivery of it. That was taking a big chance and now that's its back to it's original glory, it does not disappoint.
Tony gave me some insight as to why his taste in cars is what it is. Nowadays the process of building a car is all done by computers. You meet with a builder, they draw something, 3D image it, put it into a computer and the computer prints it out. You do a test fit and when the design is final they put that into a machine and then the machine makes the part. This car is totally the opposite of that. There was a person manually doing calculations- everything from the body lines and angle of the hood to how its going to steer and how it's going to act going down the road. They used real math, specialized knowledge and experience to make these vehicles the well-oiled machines that they are. They built everything by hand. Good craftsmanship was no small accomplishment.
From a build standpoint, this one proved to be much more involved than the car that inspired it. It was originally designed by Tom Taylor and built by Fleury Hot Rods for Bob Reed of Oklahoma. It's a unibody which is kind of unheard of for it's time. Back in the 1930's that was a custom, one off type thing. All the suspension is handmade. The hood and nose are one piece, hand crafted of aluminum. And, he hasn't driven it much but believe it or not Tony says it rides like a dream.
Congratulations to Tony Pisano as the recipient of the Steele Rubber Products Preservation award. We appreciate your love of the collector car hobby and your contribution to it by preserving this special piece of automotive history.
Steele Rubber Products, located in Denver, NC, is a manufacturer and seller of high-quality rubber parts and weatherstripping products for classic and vintage automobiles, hot rods, RVs and Boats. Steele offers more than 12,000 parts for cars and trucks as well as a large line of universal weatherstripping and rubber parts to be used on any project. Established in 1958, Steele is a trusted name in the automotive restoration industry.